Happy Wednesday, all! I trust that this week is going well for most of you. Here's another short post for this week. I know I'm slacking, but I wanted to share this month's book with you.
This month we are reading
A Tree Grows in Brooklyn
by Betty Smith. If you've never read it, it may seem a little daunting at first. But, I've heard lovely things about it, so I'm excited to share with you.
And if you've been looking for the
Seabiscuit
discussion, have no fear. It will happen. Honest. Just not on the date it was supposed to happen. Obviously.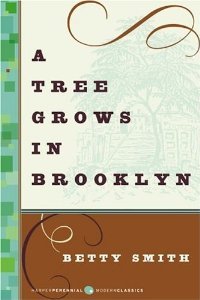 So go check out
A Tree Grows in Brooklyn
and let's meet back here in a few weeks to get this discussion rollin!
And come back tomorrow for your weekly dose of "Kelly feels the need to update us on her pregnancy so I guess I'll read it."
Happy Wednesday!